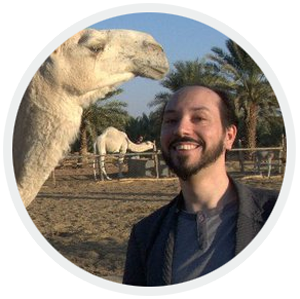 Andrei C. Davis
Tell us about yourself
Having completed a five year teaching job in Brazil, I continued my education for a Bachelor Degree. I worked as a programmer at Adobe Systems Inc. for a few years, and got into teaching multimedia and programming. Getting a Masters of Education was a logical step for me, as I enjoyed teaching over programming at Adobe. My wife and I taught English in Laos for a few months, America and South Korea for a year, and Saudi Arabia for three years.
Tell us about your Place of Origin and any other background information you would like to share:
Originally born in Brazil, I actually learned English first, because my mother had been in America for years, and took me back to the states when I was only one.
How did you decide on Saudi Arabia as a teaching destination?
Back in 2009, my wife and I were in South Korea. We met lots of English practitioners who had taught in various locations around the world. Teachers were hearing and talking about Saudi Arabia as a teaching destination. We all heard Saudi Arabia was in dire need of qualified teachers, but not many were up to the challenge. My wife and I decided to try it out, and we soon found that the aspects of Saudi Arabia that are difficult, can be made easy with help, in the form of institutional support, assistance with logistical labor, and the ability to contact people who provide such support structures.
What are some of the things that you like the most about living and teaching in the Saudi Arabia?
Pragmatically speaking, what makes Saudi Arabia worthwhile is that we have no sales tax here, and my wife and I are paid $3000 USD per month. Groceries are cheap, as we spend the equivalent of $60 USD a month. Working in Saudi Arabia, our living and transport expenses combined are considerably cheaper than what we paid to live in America, as costs come out to $1,066 USD per month. Socially, Saudi people are fairly nice and accommodating towards men and wives. Family sections dominate most restaurants, and the service is better for families than for single people. Archaeologically, there are sites all over Saudi Arabia. Al-Jouf has the Rajajil standing stones and the 200 year old Za'abal Castle, in Ha'il there's the Airif Fort, and Qassim has Antarah's Rock. Saudi Arabia is also close to many other countries worth exploring like Oman, Jordan, Bahrain, Turkey, Greece, and London.
Tell us what a typical workday looks like?
A typical workday starts off with reviewing the syllabi for your classes, and your lesson plans for them. A typical semester may be busy in the beginning, as not all teachers return on time from their break. Towards the end of the year, student attrition dwindles the student body by a quarter or so, on average.
What are your thoughts on how security and safety are managed in Saudi Arabia?
Compounds seem equipped with the means to enforce security. Between Tabuk, Jouf, Ha'il, and Qassim, the guards seem too young and inexperienced to know what to do in an emergency. Qassim's compound is likely to handle security a bit better due to some employees being comprised of expats; with a mirror, they even check for dangerous items under our bus.
What does your next adventure include?
During our summer break of 2014, my wife and I will go to Brazil for the World Cup, and then to America to visit family.
What cities in Saudi Arabia have you worked?
My wife and I have worked in Al-Jouf, for Al-Jouf University; Ha'il, for Ha'il University; and Qassim, for Qassim University. We have made visits to Tabuk too.
What cities would you like to work in?
I suppose the Universities in Majna, Dammam, Al-Khabar, and Jazan would be worth looking into, but my wife and I are happy in Qassim; the University is nice and the compound is amazing.
Comments or suggestions for potential teachers:
The best advice I can give is to talk and email people in Saudi Arabia, and not to rely too much on information about a location based on blog posts or even western news media.
Want to share your experience too?
We'd love to hear your point of view. Submit your bio here.